Monster Piano. MONSTROUS FUN!!"
What could be more fun than a piano you play with your feet?
The Monster Piano will add unlimited hours of fun and learning to any event or business. Whether you're a school, preschool, music academy, mall or recreation center, the benefits of the Monster Piano are enormous. The Monster Piano is a floor piano that can be used as an educational tool, a popular attraction, or just for having fun!


What our customers are saying: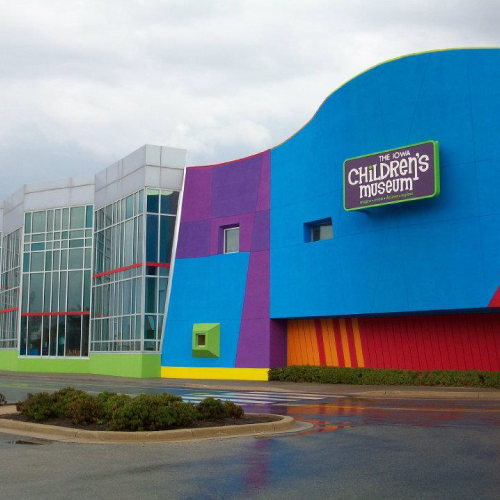 The Monster Piano has been a great addition to the Family Museum. Families and kids use it together. I have seen fabulous interactions, learning, and most of all, FUN taking place. In fact, when we were renovating and had to store it for a short time, visitors asked for it daily. It is unique, eye-catching, and extremely durable. We get over 150,000 visitors per year. It is a centerpiece in our Museum. Definitely a worthwhile addition.

Kim Kidwell
Family Museum Director
2900 Learning Campus Drive
Bettendorf, IA 52722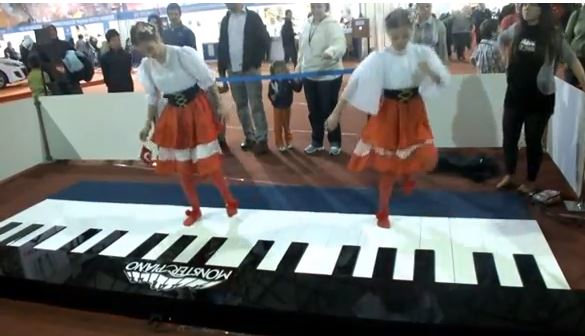 We attended 2 international children's festivals last month. Kocaeli Festival was visited by 100,000 children during 3 days. Monster Piano was the most popular instrument in the festival. I believe this product will be very popular in Turkey, especially in the education sector.

Suleyman Eronen



At Abbey Road Entertainment we are always on the lookout for new and exciting ideas for entertainment rental equipment. The Monster Piano has been a great addition to our inventory. It is a stand out piece that is unique and interactive. The support from Monster Piano has also been terrific. Any questions we had/have regarding the product have been answered promptly. We recommend both the product and the team at Monster Piano.

Marc Katz | CEO
Abbey Road Entertainment
222 Limestone Crescent Toronto, Ontario M3J 2S4


Very Satisfied — Saved our production! Quick response, great service, great company! Highly Recommend!

Jane Ganey
Thompson High School
Alabaster, Alabama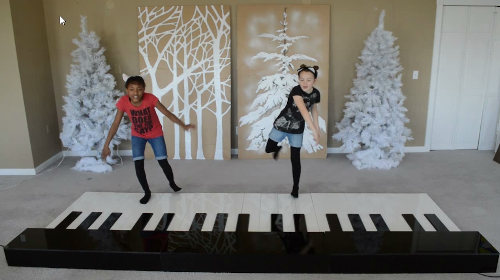 My beginning students learned their note names in a flash and what a great way to learn rhythm. Two of my students performed a duet and the crowd loved it! This piano rocks!

Rebecca Nielsen
Piano Teacher
Sing Academy
Boise, Idaho
Why Monster Piano?

Teaching Tool — The Monster Piano is a real instrument and as such is a valuable teaching tool for music academies and pre-schools. It is fun, challenging and keeps kids coming back for more.
Entertainment Value — Party Rentals have successfully used floor pianos to add pizzazz to parties, weddings and fundraisers.
Advertising — The Monster Piano is an irresistible draw for all kinds of people. It can be used by businesses, big malls, or other retail outlets as a way to get customers in the door.
Promotes Health — There is no question the Monster Piano gives a good aerobic workout. It provides valuable exercise for your body and your brain. It not only improves a person's overall dexterity, but promotes complex thought processes. After a few lessons when you and your feet have gained a little confidence it is very easy to create playful improvisations and compositions of your own.
Versatility — The Monster Piano is incredibly versatile and can be used as a solo instrument, an accompaniment instrument, or perhaps most fun of all, an instrument that allows you to perform with others. When playing together, performers are constantly challenged to pay close attention to the tempo, rhythm and dynamics of the song. However, it/s beyond satisfying to practice a piece of music with a partner, finally get it together, and put on a show for yourself and others!
Affordability — Previously the big piano or walking piano was so expensive only museums or large institutions could afford one. ($250,000.00 at FAO Schwartz in NYC). Monster Piano offers a more affordable floor piano easily operated by a wireless remote
For the "Art" of it All — There is something so instantly appealing about a floor piano. The way it merges dance, music and play opens up a whole new world of artistic expression. Even the simplest song when combined with dance can become a work of art.