Monster Piano
Now with lighted keys!
Over the years the most common request we have received is to light the keys. We are pleased to offer super bright lighted keys with our Pianos! The Piano is able to light keys to any color. This new feature is included with both the full size Monster Piano and the Mini.
The video only shows a few of the available colors.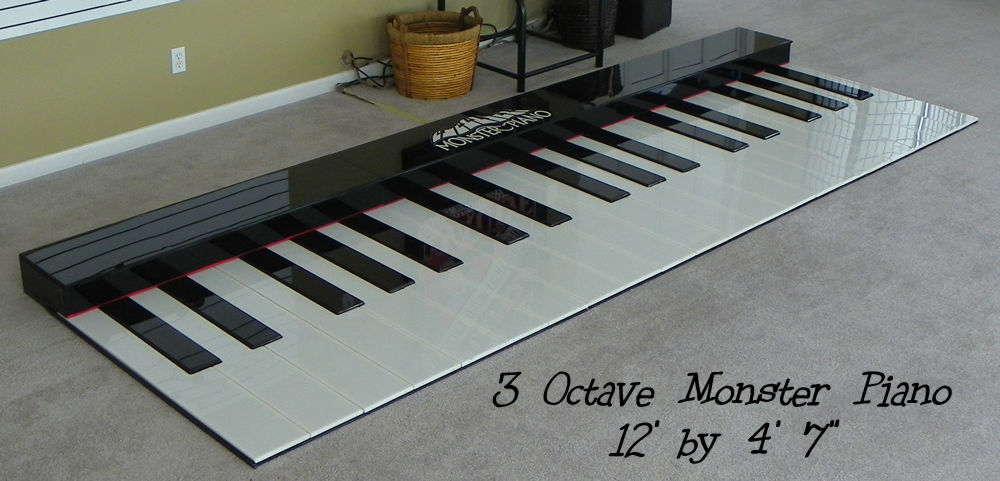 The Monster Piano is a BIG Piano, so big you play it with your feet. Each Octave is 4 feet. A three octave Piano is 12 feet, and a set of five octaves is 20 feet long. The Piano can be purchased by the octave, but the ideal set is either three, five, or seven octaves long. The Piano is made of tough acrylic and designed for long term use.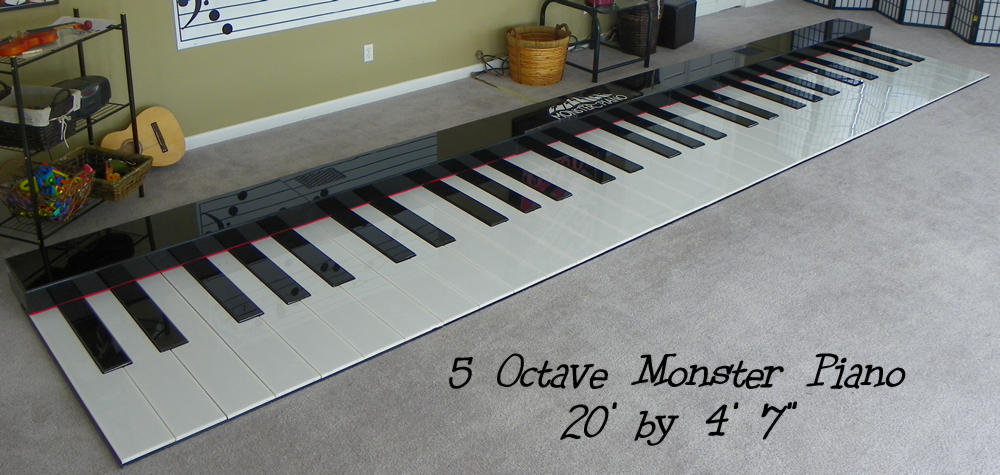 The Monster Piano Package comes complete with:
A floor keyboard with full digital capacities, 128 GM sounds and full GM implementation, internal software to teach music and dance, and a metronome.
A colored light-guided tutorial that includes sample songs (solos, duets, trios) that are arranged solely for your feet!
Touch screen wireless remote. Control all the Piano functions from touch screen of your personal device (iPhone, iPad, Tablet) or desktop computer.
All keys are indicated with a Super bright full-color LED built into the fall board of the Piano.
Teacher's handbook that includes music theory games and ways to incorporate the MONSTER PIANO in lessons and performances.

The Mini Monster Piano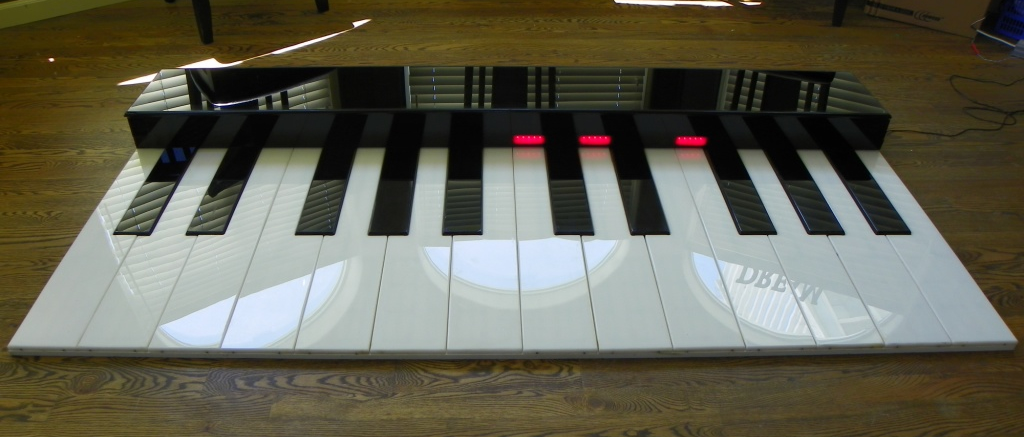 The Mini Monster is a smaller two-octave that is approximately 7 feet long with 5 inch wide keys. 25 keys (treble "C" key not shown in the photo). It was expressly designed with children in mind. The Mini Monster does nearly everything the massive Monster Piano does. It is not available with lighted keys. It does everything for a smaller cost.
The manufacturer suggested retail price of the Mini Monster Piano is $12,500 USD. You may also customize the number of keys on a Mini Monster to fit where you need it. The Mini Monster is available with up to 29 keys.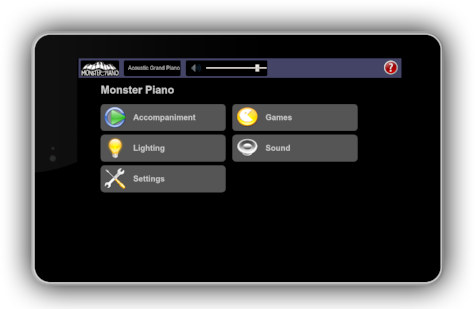 Software Features:
Voice Selection
Volume
Demo Mode - 10 songs
Training Mode - 21 slower songs
Metronome with common time signatures
Piano speaking with human voice
Rhythm mode - 63 rhythms
Lighting mode and colors
Accompaniment / Harmony
Games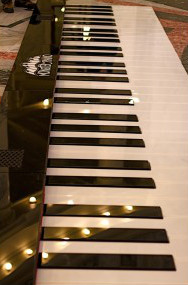 The middle octave contains the computer, power supplies and interconnection circuitry. The next octave to the eft and right contain the speakers. Each Octave is 4 feet by 4 feet 7 inches by 6 inches high and they can be disconnected from each other. Each octave is a separate unit and weighs about a hundred pounds. Two people can easily move a Piano. The Monster Piano can play on any flat level floor (hard surface or low pile commercial carpet). The octaves are easily plugged together and are aligned with clips and screws that make setup and removal very easy.
The operation of the Monster Piano is very simple. The Piano has built in WIFI that allows users to connect via any internet capable device. The users can control all the functions, learning software, and games in the Piano from their iPhone, iPad, Android device, PC tablet or desktop computer.
Purchase Price
Pricing for a Monster Piano starts at about $9,500 USD. Price varies based on Piano size, and selected features.